La Meccanica
di Precisione srl
Precision machining for the electronics industry: threaded inserts, waveguides and small.
Registered office, factory and offices:
Via di Salone, 106
00131 Settecamini - Roma
Tel: 06.41 92 260
Fax: 06.87 45 02 96
P.IVA 0 132 319 1005
C.F. 0 489 680 0580
About us
Mecahanical precisions workmanship for eletronic industries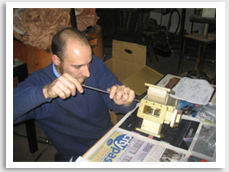 From around 30 years La Meccanica di Precisione is qualified builder of particular to Alenia specific.

We performs workmanships to half of Vertical Job Centers, CNC Lathes in steel, aluminum, copper, brass and plastic materials. We realize any type of Wave Guide for civil and military radar.

We performs workmanships of carpentry, welding to Castolin, TIG, Continuos Thread and Argon.